Rain, rain, go away, come again another day! Yes, we need the rain but enough is enough, time for a little sunshine. A hot trend in gift giving right now is a Box of Sunshine! We took a peak around the internet to find you the best options out there, and I will admit we are a little biased but we found something for every budget and even a do it yourself option.
We found this do it yourself box on Happy Money Saver There is a free download for their cute little card to add to a box that you create yourself. Karrie used a variety of her favorite yellow goodies to fill the box. If you are the do it yourself type and want to create a box that is really personal this is a great option.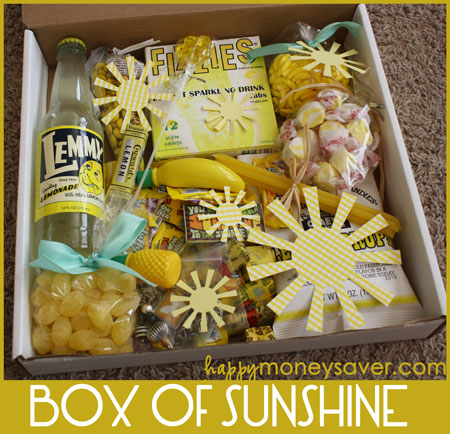 This little gem is from
Parcelly
. They put together a clever little box full of fun surprises, including a a Hugs Not Ughs tote bag. This box is $40.93 (they are in Canada).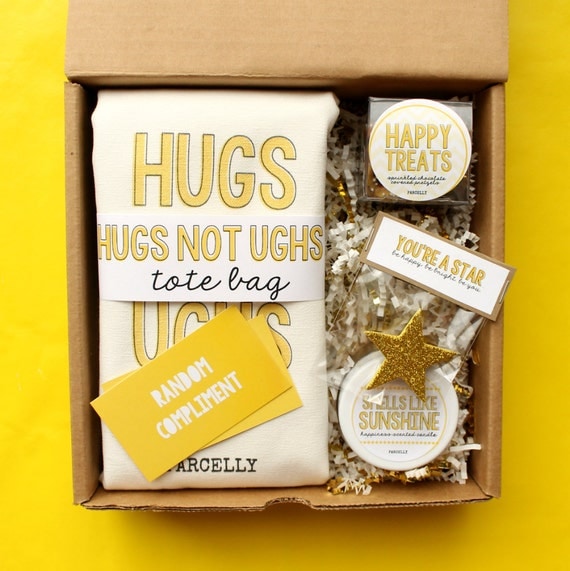 Last, but of course, not least Confetti Gift Company has several
Box of Sunshine
options. They have a kids box, a
surprise ball
Box of Sunshine for all ages and two options that are a bit more adult. Their boxes range from $28-$36 depending on what's inside.
I hope this inspired you to brighten someone's day!