That is the question... what do I do for the kids at my wedding? We have seen a new trend in special gifts and favors for the kids. This is a very sweet idea and when the kids receive a special gift it does make them feel important and that they truly are part of your special day. Another bonus to these lovely gifts is that the kids may actually be able to entertain themselves during dinner and mom and dad can actually enjoy the lovely reception you have been planning for a year or more. When buying gifts truly think of the entertainment value of the items. There are several options out there for the DIY bride or you can buy boxes that have been well thought out and assembled for you. Here are a few of our favorites:
If budget allowing these are a great option! A beautiful presentation with personalized label and coloring book and packed with entertainment.
If you are a DIY bride or are trying to save a few $$ on the kids boxes you can create them yourself. If you want to enlist a little help these options are great! The boxes and personalized labels and coordinating ribbons are included and you can fill them with toys, trinkets and activities that the kids will love.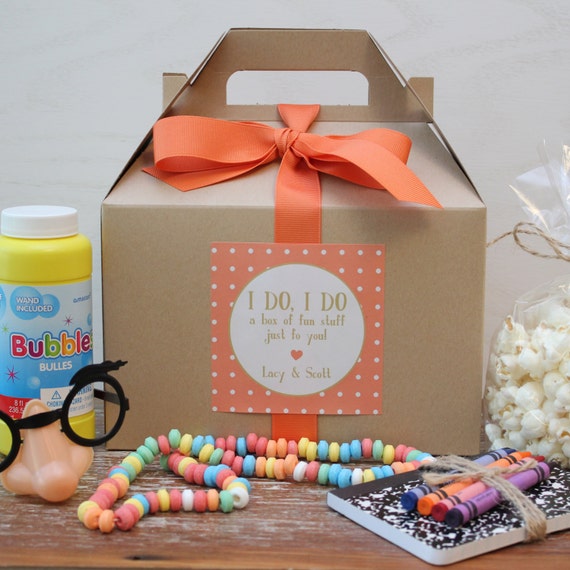 Whatever your budget and creativity level, there are many options out there. If you want and entirely DIY option there are lots of inspiration of Pinterest to get the creative juices flowing.