There has been so much excitement about Homesick Candles! Love the idea, so great for kids away at college or someone who is living away from their home state. We took a look around the web to figure out which companies did it best!
First of all we have to applaud
Homesick Candles.
They really hit the mark! They have received a lot of great press and outstanding reviews for their scents that are truly on point. They even have a running $5 off campaign that has been in place for a bit to take the sting out of this slightly pricey candle.
Pottery Barn
launched their line of city and state scented candles along with a line of pillows, tote bags, journals and calendars all sticking to the theme of I love my home. Lovely candles, but with a more feminine feel I don't think they have the mass appeal as some of the other candles we found.
Want to get personal? Hello You Candles launched their line of
state scented candles
late last year and they have been steadily growing in popularity. Hello You Candles allows you to include a personal message on the back of all of their candles and when you you combine a scent and a personal message you really get an emotional reaction from the recipient.
Confetti Gift Company went the extra mile with their
Homesick Gift Box
. They include a mini state scented candle, matches, a homesick mug and chocolate chip cookies (comfort food) for a very memorable home state gift.
We turned to Etys, the handmade marketplace to see what our artisans had to offer. We found a company called
Scripted Fragrance
that has a limited line of state scented candles. The candles are very pretty and I love that the class jar they come in is printed with the state silhouette that you can keep long after the candle has been burned.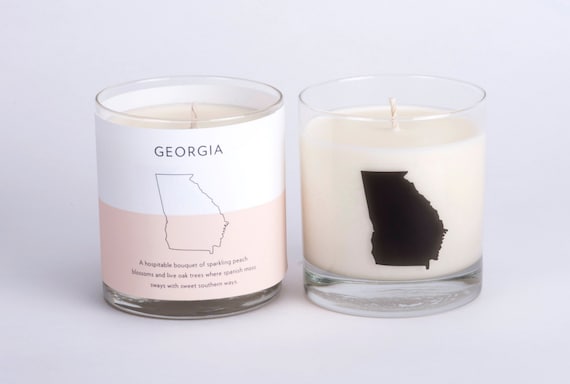 Happy gifting!